1
« on: September 02, 2018, 08:42 PM »
When I left off with my story, I was starting to talk about five years worth of changes to the park that happened once they doubled their footprint with the Jenkins acquisition, and I also showed you the growth that had taken place in surrounding Planco City thanks to the boom in tourism.
I think I also showed a shot of the new observatory that had replaced the steakhouse, which as it turns out, was not entirely finished at that time. Here's the observatory as it stands today.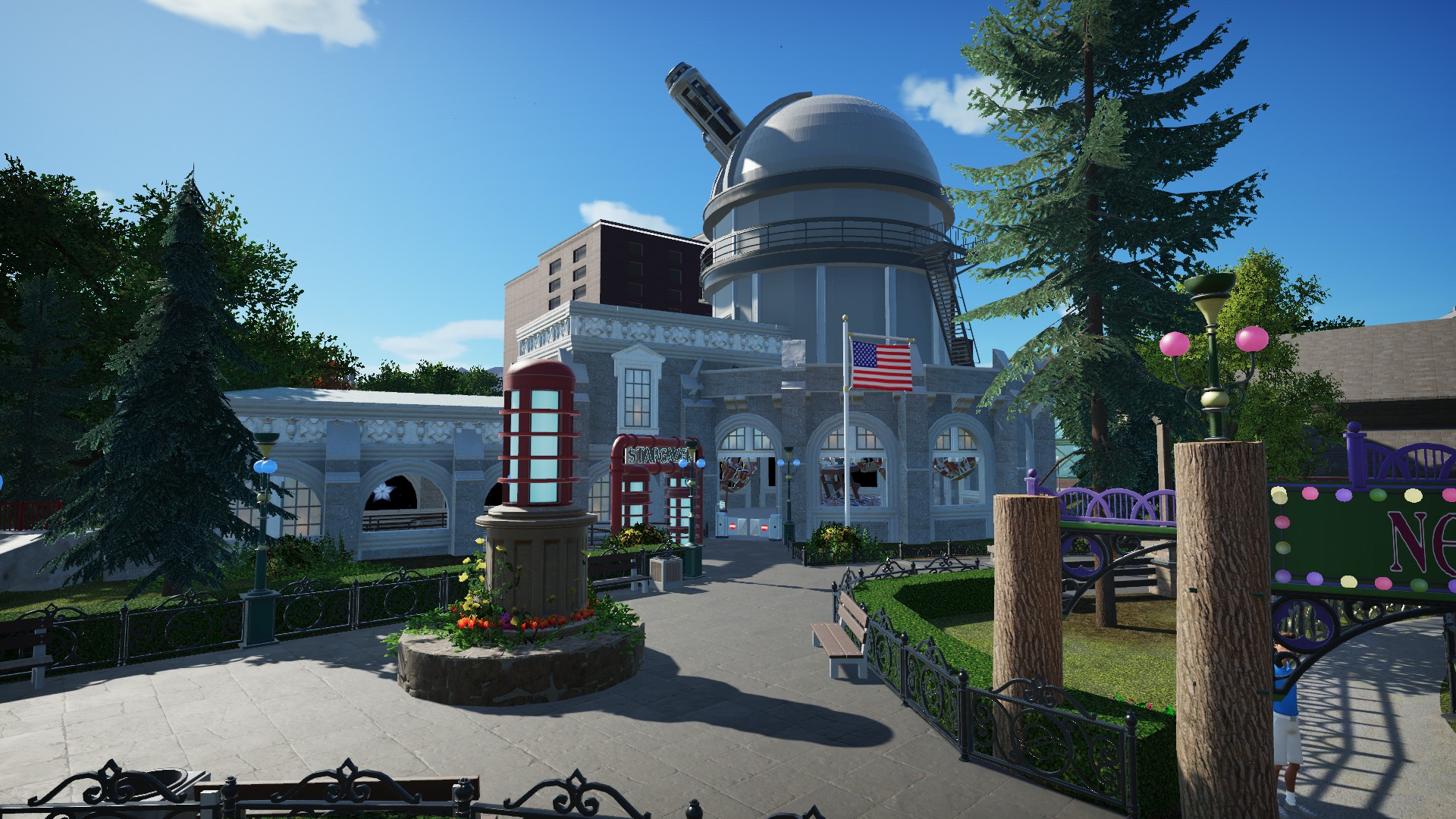 We not only lost the steakhouse, but another planned restaurant near the log flume was replaced with a VIP lodge hotel. So we scrambled quickly and put up "Tastes Like Chicken" a sit-down cafeteria style restaurant that mostly serves, well, chicken.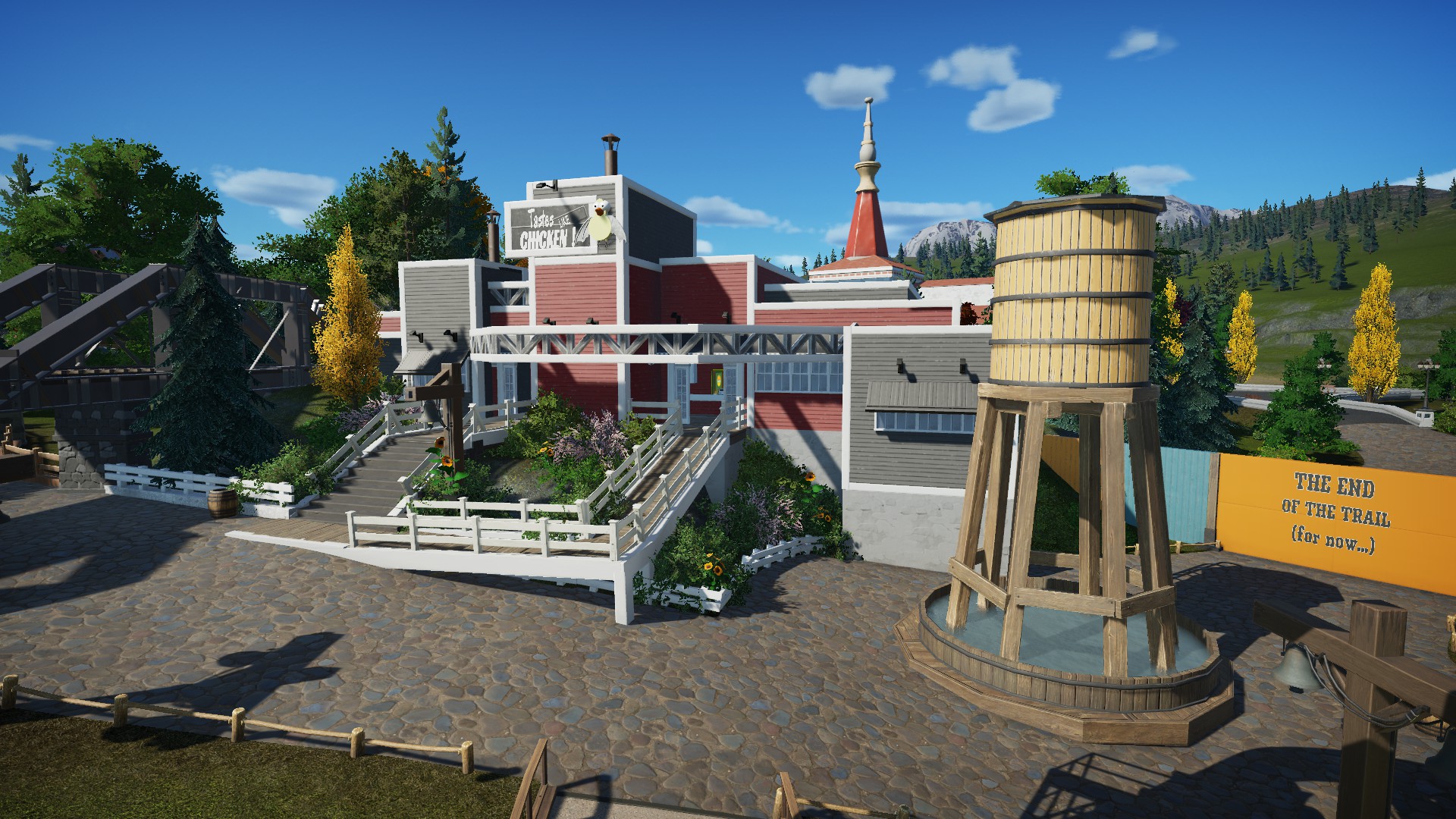 Beyond that, we made adding a kiddie land into a priority as there hadn't been much for the kids to do in this park prior. A new small coaster and some appropriate flat rides were given a fishing-hole theme, because, nature. [The coaster is from my first PC park Copper Creek, unchanged. The flats are mostly from Worlds of Fun, re-themed slightly.]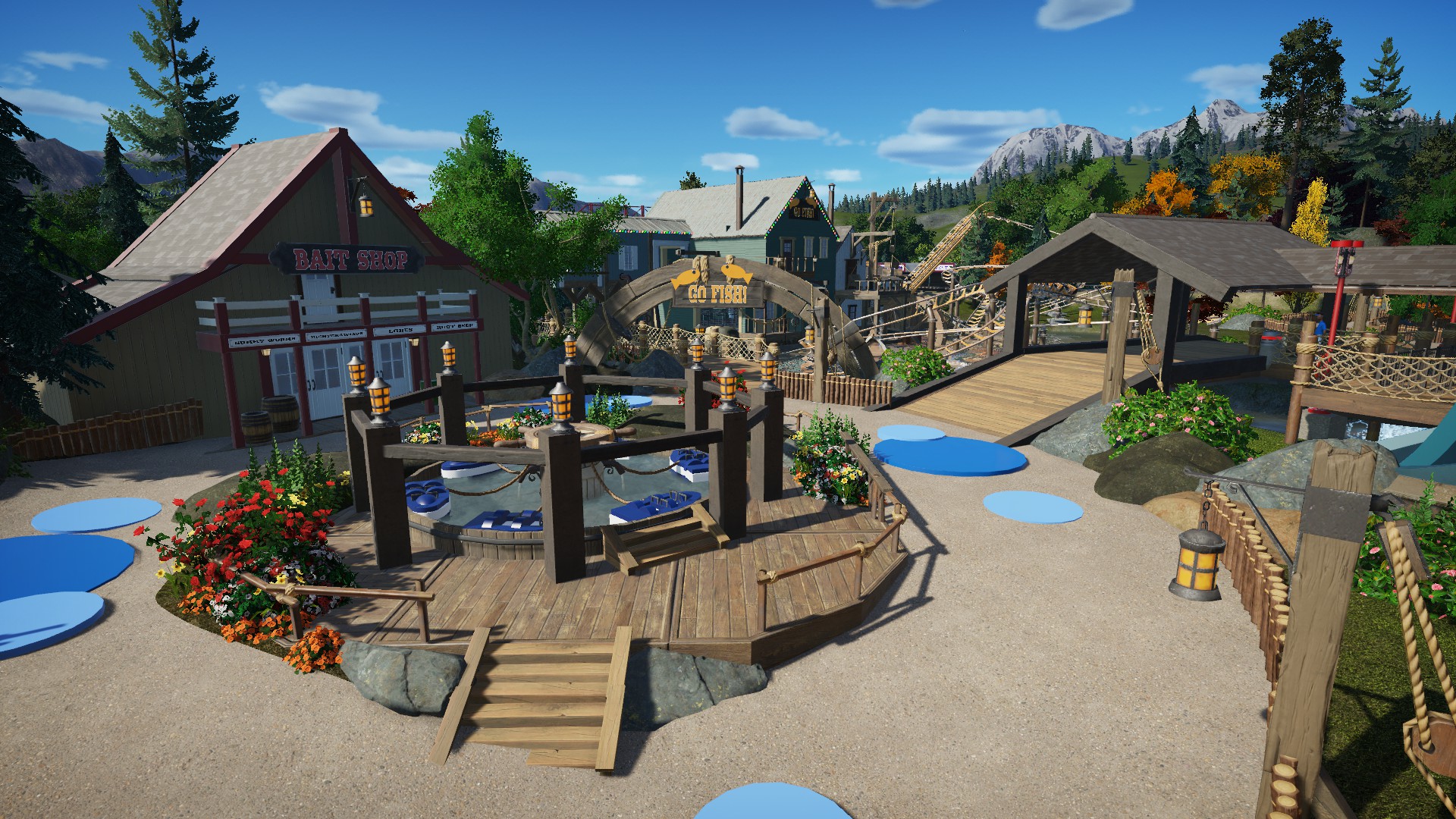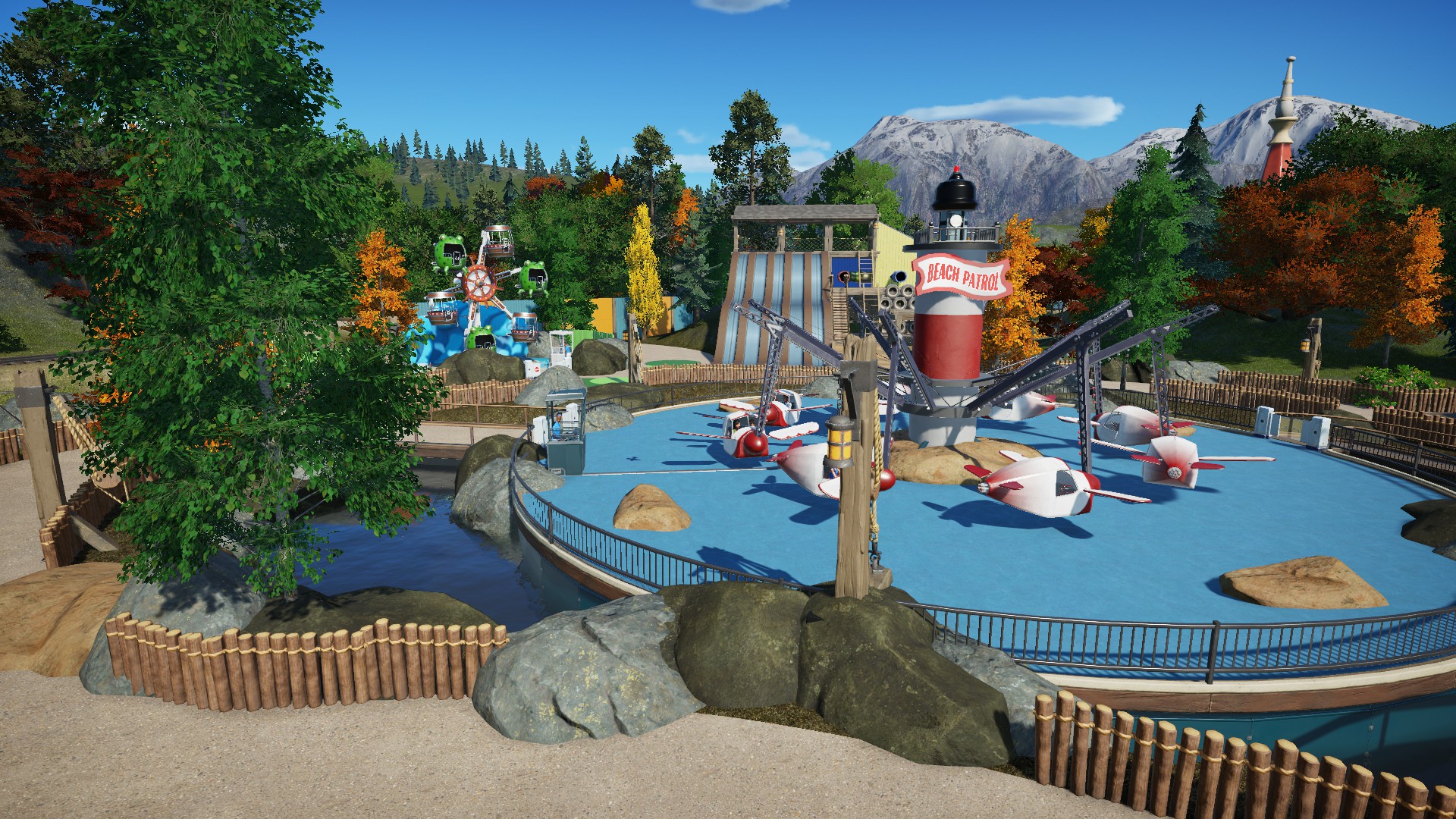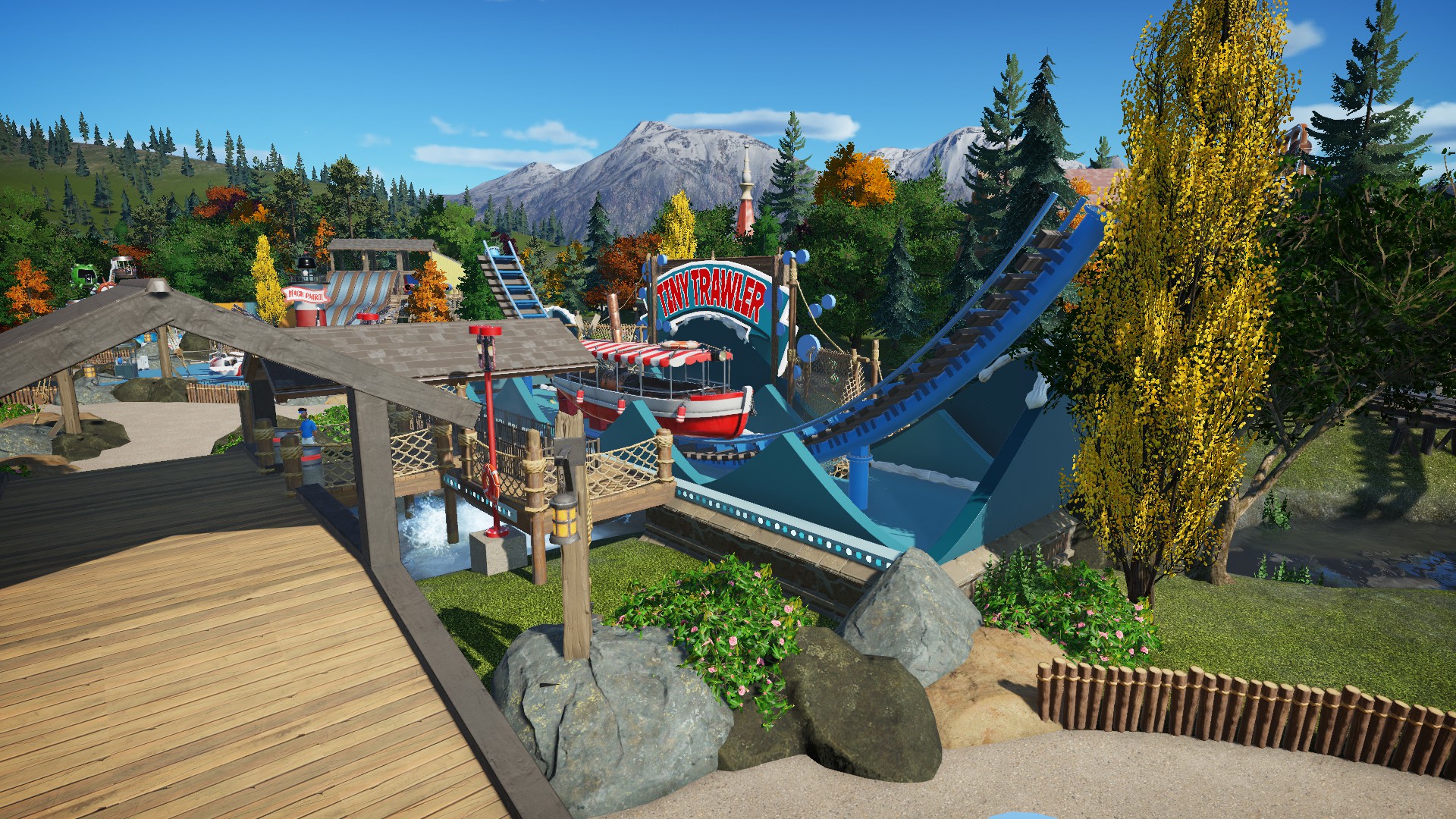 The Wild Moose coaster had been in the park for a few seasons, I think we didn't show it previously because it was one of those years that the city didn't want us to add any new coasters. It feels much more dangerous than your usual wild mouse due to it's proximity along the top of the cliffs and the track being built around a cluster of existing trees in this area, making you feel like you could smack into one with every turn. It's fun, you should totally ride it.
Ambitious plans were made for expanding the land behind our Timber Town section, and they ended up backfiring on us. Three coasters were initially planned, only one was built.
"Cliffhanger" is built at the top of the cliffs on the Jenkins land, a mine train that starts at it's highest elevation and takes you gradually down the hill, where you don't see either of the two lift hills until the end of the ride. [Another import from Copper Creek, mostly unchanged.]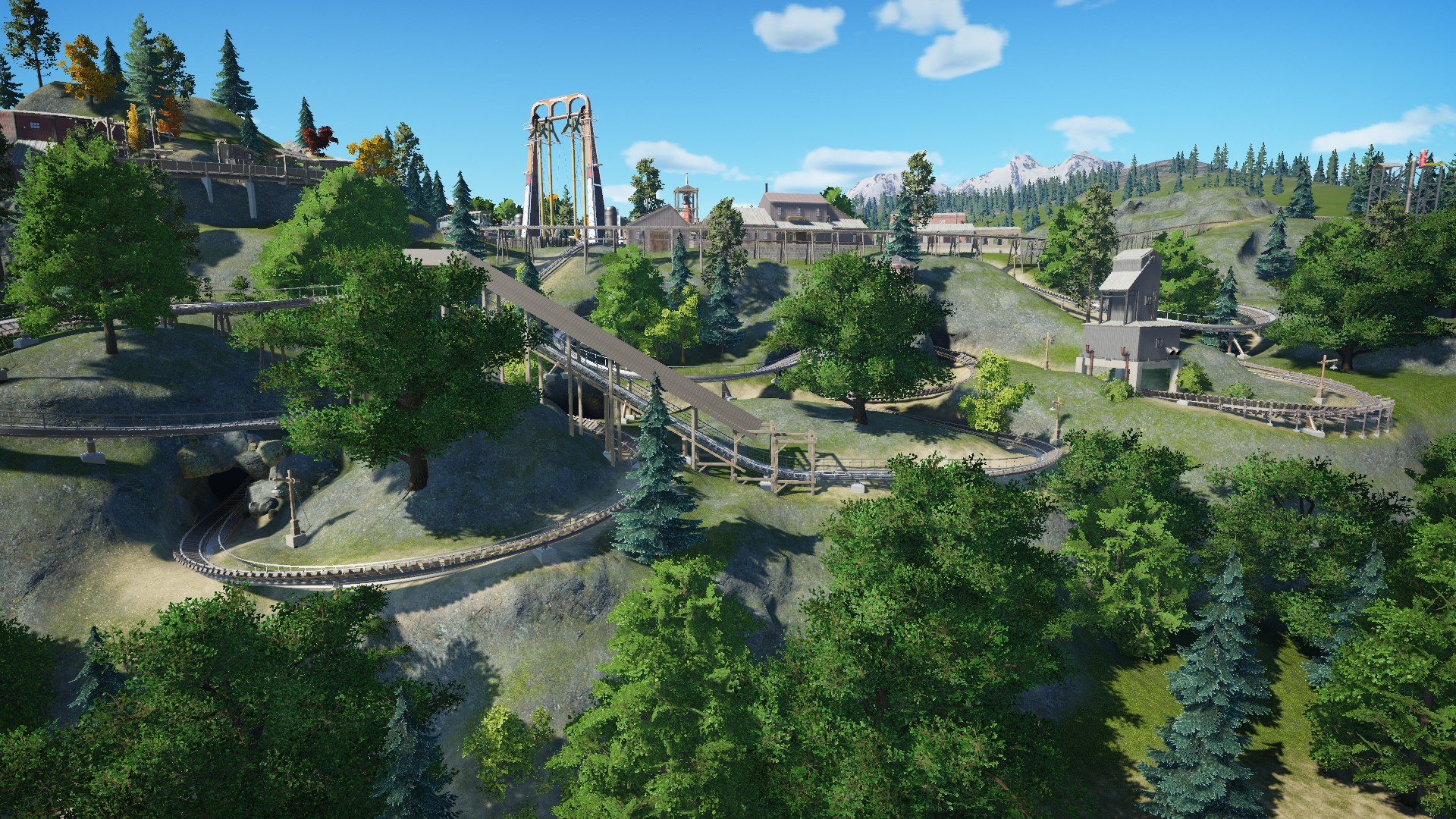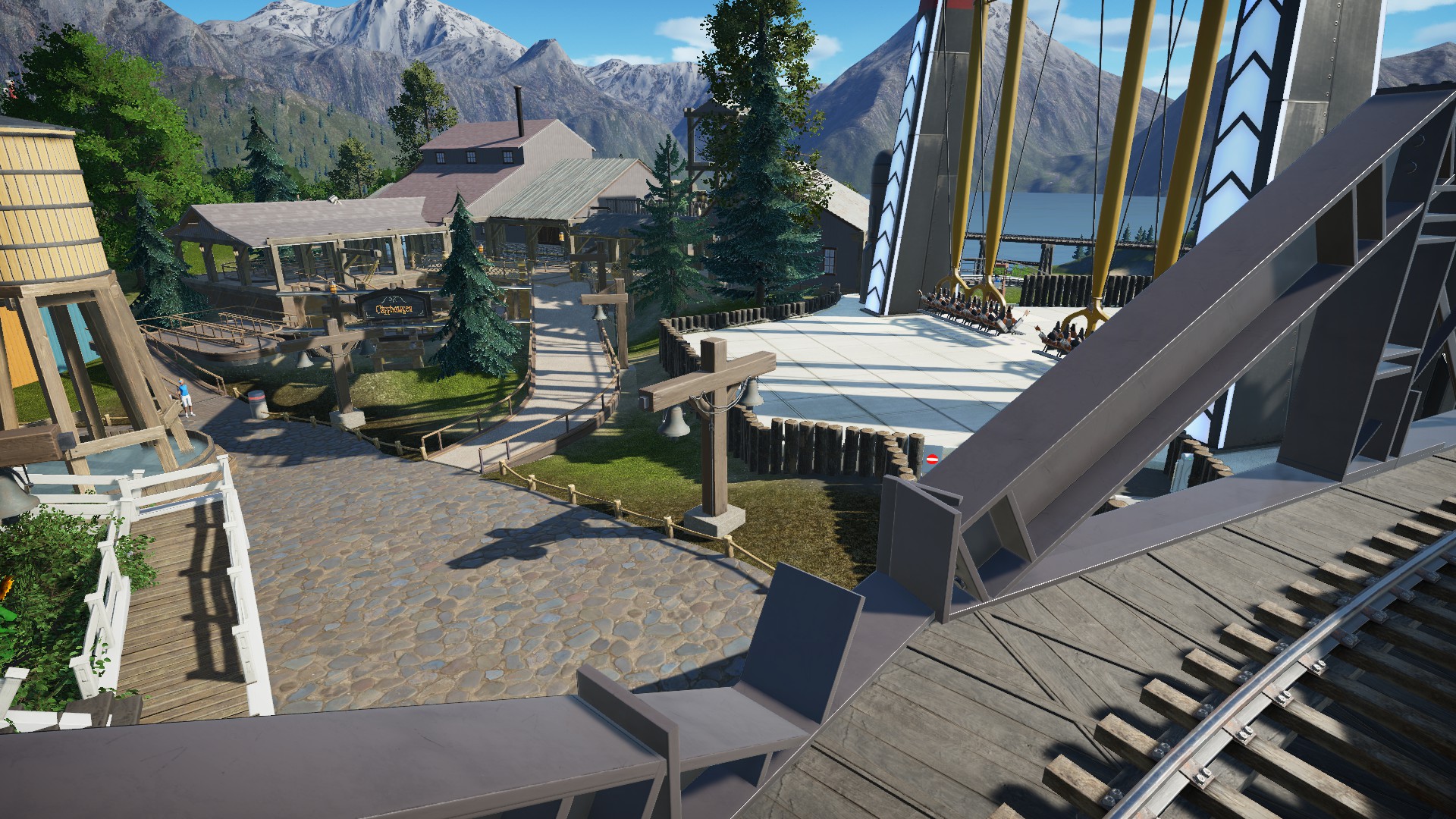 As you can see above, we did get the giant swing into this area as well. But then before the next two coasters could be completed, the city enacted another coaster ban on us. Seems the infrastructure of Planco City was never designed to support this level of growth, particularly amongst people who don't actually live here. The plethora of minimum wage jobs also created a worker shortage so it might actually be for the best that we had to stop our expansion here (and also explains how Becky was able to get her job back, AGAIN.)
The "Steeplechase" wooden coaster, and "Octane" launched coasters were never built, even though their stations were. We had even started some extensive terraforming to accomodate both coasters, but for now that land will remain fenced off from the public. [Both coasters were built, see my notes below.]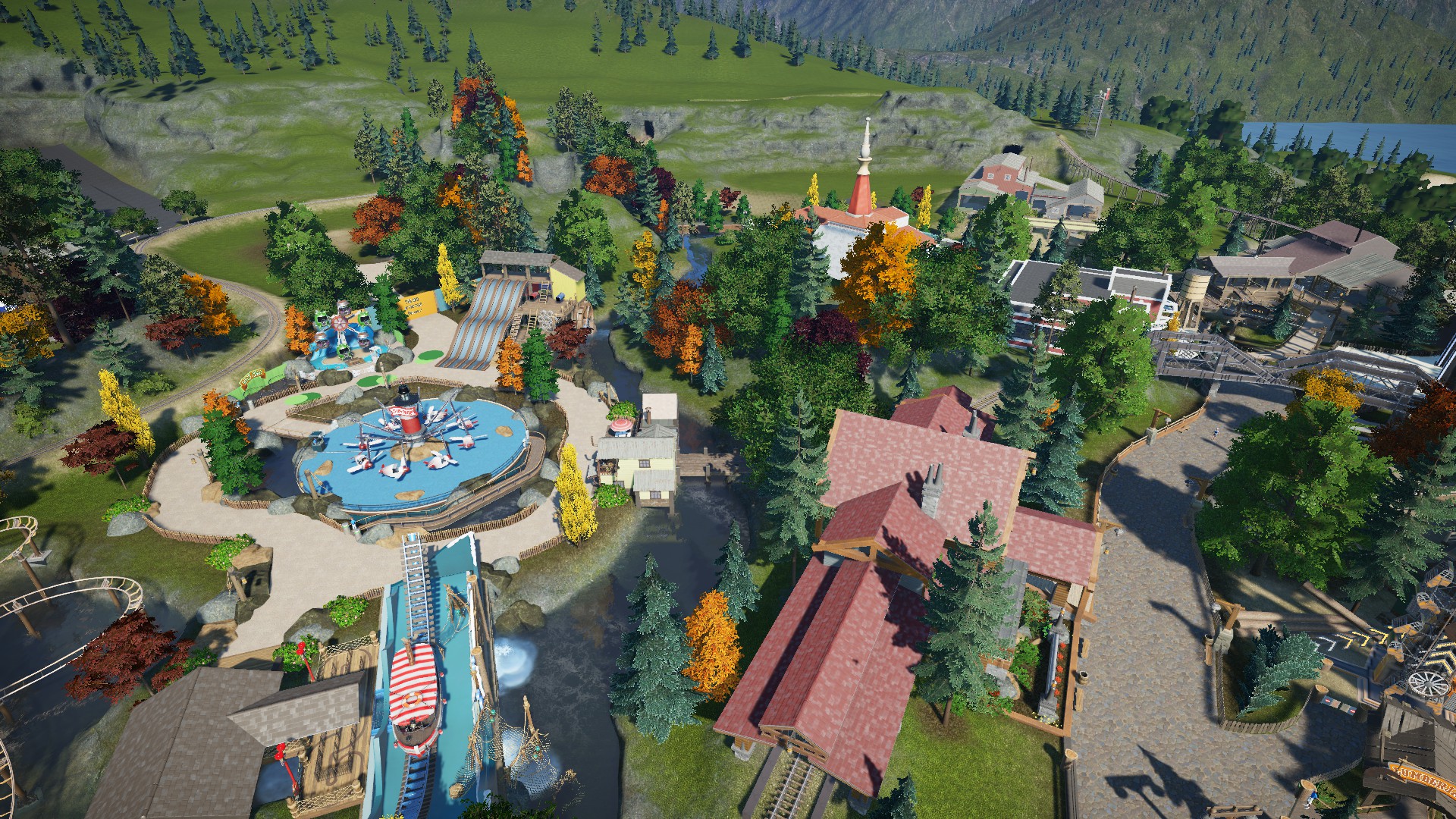 "Octane" would have been part of a new land themed to racing, and, um, stuff. (Naming these lands was never a strong suit for me or my staff.) A go-kart track, relocation of the bumper cars, and a couple more flat rides were planned for the area, and currently we're not sure if and when that is going to happen.
So Lake Jeronimo Park is currently at a standstill, and even I have had to start looking for other work. Down on the beach, the city pulled back on any plans they had made for that boardwalk, save for a couple of small vintage flats and a hot air balloon ride that had been added in prior seasons.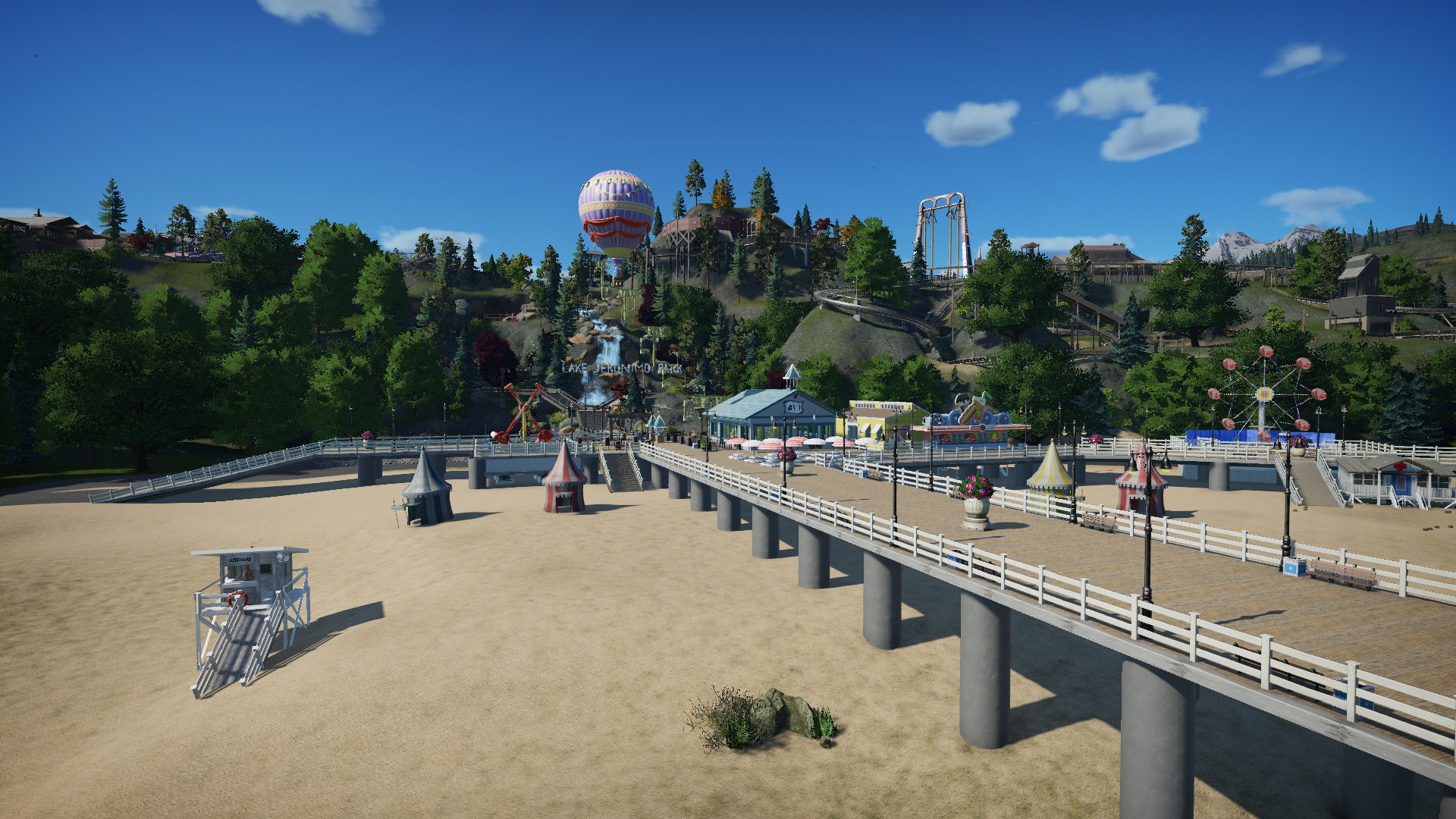 And as for Old Man Jenkins, well, turns out he wasn't sick and he wasn't even as old as we thought he was. He stopped planting crops because some recent changes to tax laws cost him all his customers. It seems he spent a lot of his time living in the past, and what he apparently wanted most was to make Planco City great again, like it was in his childhood. He forgot the fact that his family were just poor farmers that entire time, but mostly, he was a kid and all memories, even bad ones, gain fondness as we age.
After about three seasons Jenkins was no longer able to pay the mortgage on the land he "inherited" from his parents, one of those loans that was designed to never be paid off. Jenkins sold the land to us, (if we had known about the pending coaster ban we might've reconsidered) and in exchange for the reasonable sale price, we left him the small plot that contained his house and barn. Granted, we made no effort to create a barrier between him and the park, but we still felt that was quite generous.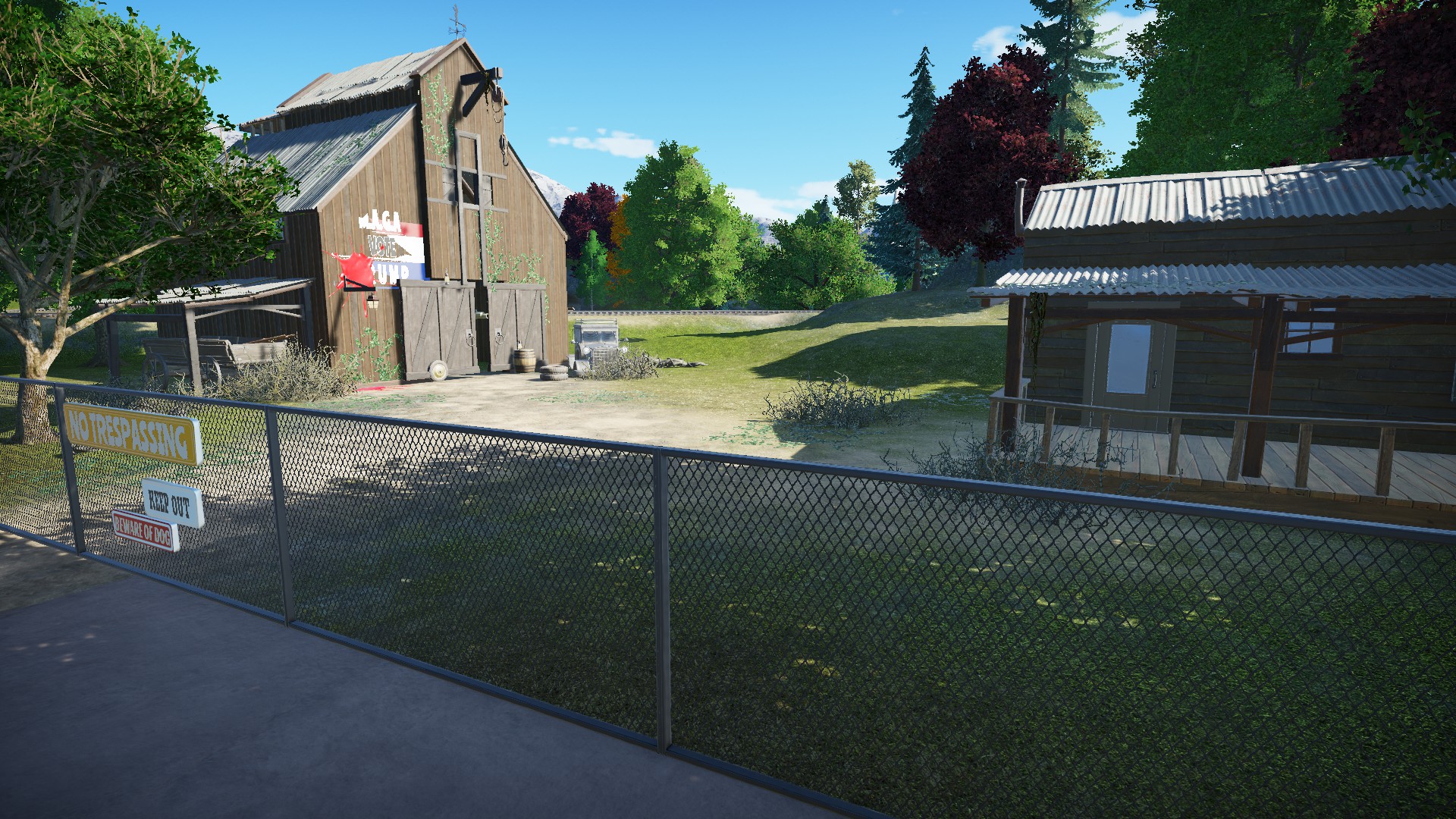 We're not even sure if he still lives there, it's been awfully quiet the past couple years. Everyone is afraid to investigate, not sure what he might be hiding in that big barn, if anything. For all we know it could just be the skeletal remains of Jenkins himself, dangling from the rafters.
Ironically, the people changing all the tax laws and rebuilding his childhood neighborhood are all the people that he himself voted for. And in the end, Planco City did become great, just not a great place for poor people like Jenkins or minimum wage park employees.
That is the end of the Lake Jeronimo story, for now. But times change, and so do laws. So perhaps the best is yet to come for this former little ice skating rink at the top of a lakeside cliff. With any luck, things could even start to look better as soon as November.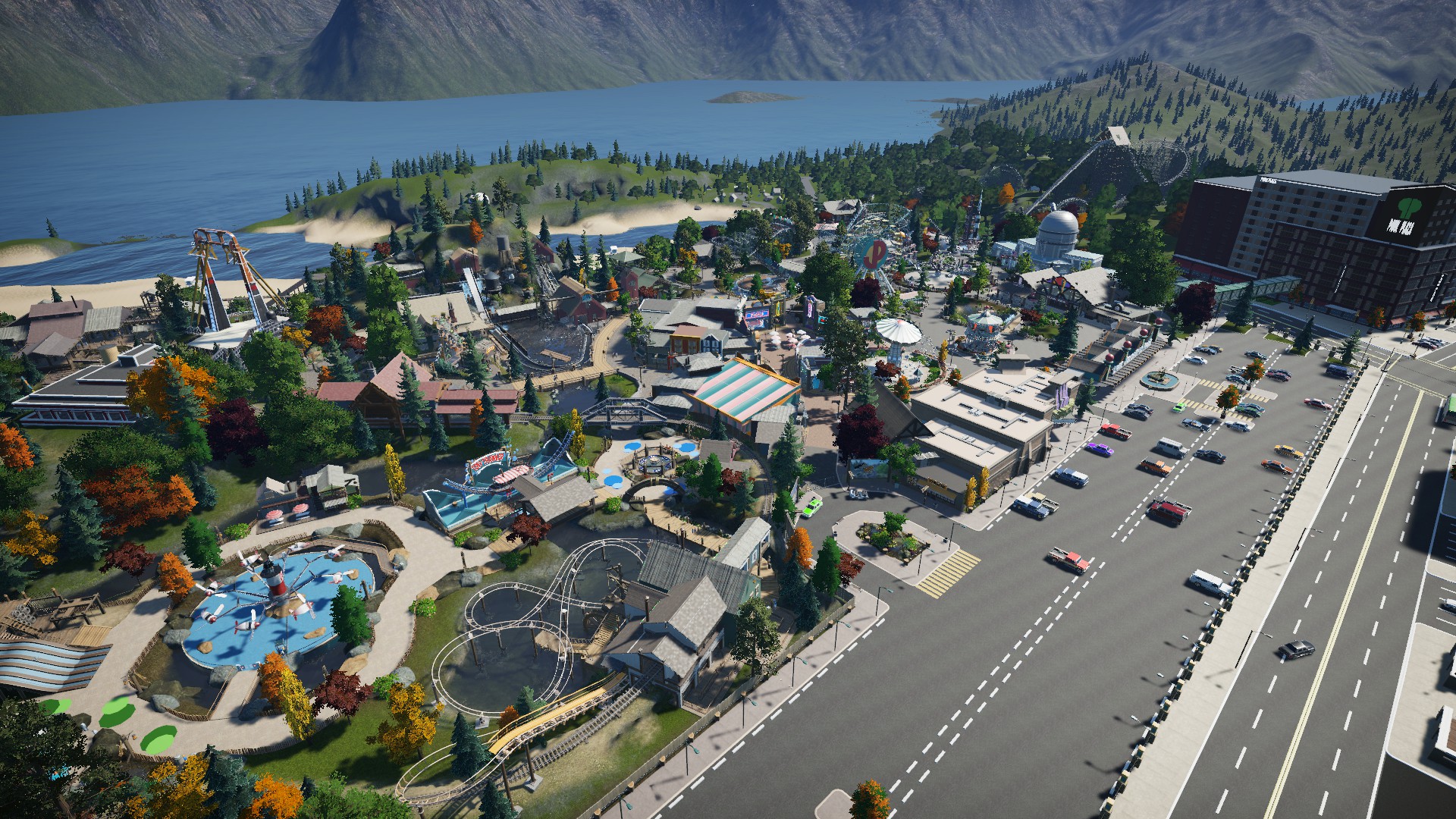 Park download:
https://steamcommunity.com/sharedfiles/filedetails/?id=1501839973
Images:
https://www.customscenerydepot.com/index.php?action=downloads;sa=view;down=3826
------------------------------------------------------
So the true story is this: The end of the competition came a little sooner than I expected, was thinking maybe one or two more challenges before the final upload. Once that happened and I had a bunch of things started, I sort of lost my enthusiasm, mostly because I knew I wouldn't get finished. The final rides weren't going to get the level of theming I wanted, and there definitely wasn't enough time to do my racecar land. So I deleted two of the coasters (but left the station and the terraforming) and tried to focus on the mine train, but even that ended up getting half-assed. This is totally my own problem, I went into this with an entire park in mind because that seems to be the only thing I know how to build. I don't think that's possible to do in a competition, and now I know.
BUT I thoroughly enjoyed finally experiencing a competition as an actual competitor, and I have a new respect for what everyone goes through. I got to play with a great and talented team of builders, and got some great feedback that I might not have gotten otherwise. And also, that Steeplechase coaster I built kind of exceeded my expectations, and once I knew I couldn't finish it properly, I didn't want to waste it here. Which gave me my idea for my next park. So, totally worth it.